Furnishing yourself with the right information is a great source of motivation for any fitness enthusiast. The mind is said to be the greatest source of power. Therefore, anyone embarking on a fitness journey must first have the right information and mental attitude before hitting the gym. If your mind is right, you are more likely to achieve way beyond your fitness goals compared to that person who is not sure of him or herself in the gym. Fitness books contain tonnes of valuable firsthand advice and tips that can help increase the chances of the reader's success in maintaining fitness.
Here we review some of the best book recommendations for fitness buffs.
1. Bigger Leaner Stronger for Men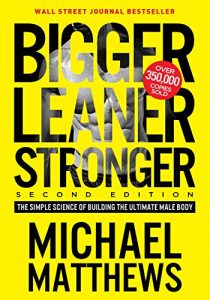 Written by Michael Matthews, this book has sold over 100,000 copies worldwide and holds the best seller title on numerous bookselling platforms. He has written two fitness books, Bigger Leaner Stronger for Men and Thinner Leaner Stronger for women to help both men and women maintain fit lives through unique methods. Such methods include dieting, exercising, and mental routines that help the reader gain muscle strength and lose weight. People across all ages can borrow from the book as the book does not encourage the use of steroids or anything that might be limiting for older or younger people. Some of the topics discussed in the book include;
. Dieting with healthy food without feeling starved or deprived and how to build muscle and lose fat
. 7 biggest myths on muscle building
. A training system that helps men have thick legs, tapered back, powerful legs, and a full chest by working out for only 3 to 6 hours a week
. Advice on supplements that can work and those that don't
. Self-discipline and willpower for ultimate fitness
. The 3 simple laws of muscle growth
. How to maintain fitness while eating cheat foods every once in a while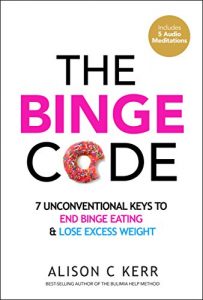 A book that focusses on ways to stop binge eating in one's journey towards losing excess fat. It is authored by Alisson C Kerr a nutritional therapist with several other bestselling books to her name. The book is based on hard science and over 10 years' worth of experience in helping people lose weight. In this book, she discusses in detail about struggles surrounding binge eating, food cravings and yo-yo diets and offers solutions to shedding the excess weight. She aims to give every reader a step by step process focusing on mind, and body to win against compulsive eating and being overweight. This book is written for people who;
. Regularly binge on junk food
. Eat to deal with stress
. Get on and off diets
. Have been diagnosed with Bulimia and other eating disorders
. Have excess weight
. Workout or fast after overeating
3. The Fitness Mindset by Brian Keane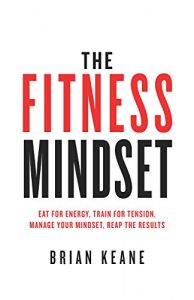 By harnessing the power of the mind, this book shows readers how to maintain health and fitness. The author aims to help the readers adopt a positive mindset towards;
. Food
. Emotion
. Stress
. Exercise
. Themselves
Readers are set to gain vast knowledge on building lean muscle and losing fat, eating to increase energy and how to know which foods work best for them. It talks about dieting, interval training, and focuses mostly on using the mind and training it to achieve desired results. Readers are taught to better manage stress, avoid fear and anxiety and recognizing achievements made in fitness through tension style workout routines and high-intensity interval training to get into the best mental and physical shape.
4. No Sweat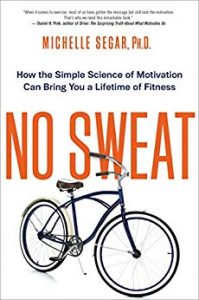 Straying from the usual exercise and dieting tips often present in numerous fitness books, this book by Michelle Segar begs to take a different route. Being a motivation scientist, the writer talks of studies about motivational psychology and techniques which can be extremely effective in the fitness and weight loss Journey. The book breaks all these studies into a four-point easy to follow plan that looks to empower people who may find it hard to exercise and are lost on finding other ways to remain fit. The writer works the readers from the inside out to get them to crave physical activity by ultimately embracing an active lifestyle. This book is written for people who;
. Want to set goals and stick to them
. Have the desire to change their unhealthy habits to adopt better behavior
. Want to improve their lifestyle
. Are looking for the willpower to get physically active without feeling like exercise is a burden
5. The Men's Fitness Exercise Bible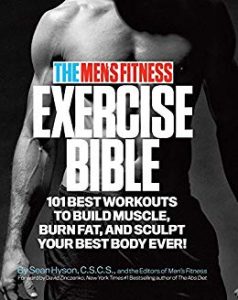 The fact that this book is composed of 101 different workouts written and developed by different people makes you understand the bible part of its title. Both experienced fitness enthusiast and beginners are well catered for in this book. There are simple workout routines and more intensive routines that will get you the dream body you so desire. From using simple things like a dumbbell in your home garage as a weight to doing 8-minute workouts that many take over an hour to cover. Other issues included in this book are;
. Suspension trainer, dumbbells, machines, bands, barbells and bodyweight routines
. Strength and muscle building full body workouts, upper, lower split routines and body part specific routines
. Cardio workouts that are heart strengthening and fat burning using treadmills, stationary bikes, rower, elliptical trainer and more
. Intricate explanation from renowned best trainers from around the world on workout designed to burn fat, increase endurance, build muscle and learn what works for you and why it works
. Descriptions that will help readers to master over 1000 various exercises
Muscle gain and fat loss nutrition plans that have been scientifically proven
All the above fitness books have earned thousands of positive reviews from people who took advice from the writers. For those who were looking to adopt better lifestyles, their lives have changed for the better, there being loads of information that is crafted to work for everyone. For those looking to build muscle whether through healthy eating, supplementing or working out, you will be spoiled for choice. These are average priced books that give you your money's worth and a lifetime worth of wisdom.